My Blog
Posts for tag: dental cleaning
By Cohasset Dental
November 03, 2021
Find out how to better care for your smile to support the long-term health of your teeth and gums.
Everything from genetics to our lifestyle can impact our oral health. If you are looking for ways to protect your smile, you've come to the right place. By turning to our Cohasset, MA, family dentist Dr. Kevin Thomas and Dr. Aaron Chenette for routine checkups every six months, and by properly caring for your smile every day between appointments, you can prevent serious dental problems from happening. It's important to understand what plaque and tartar are and how they can impact your smile.
What is plaque?
Whenever saliva and food combine they develop this clear, sticky film over teeth known as plaque. Bacteria within the plaque then take the foods and drinks you consume and turn them into acid, which will erode healthy tooth enamel and eventually lead to cavities. Leaving sugary and starchy foods on teeth all day long is particularly bad for your oral health, as this can increase the risk for decay.
What is tartar?
Tartar, also known as calculus, is hardened plaque. When plaque isn't properly removed through regular brushing and flossing it will eventually harden into tartar. Unfortunately, once this happens, your toothbrush or floss will not be able to remove this deposit buildup. The only way to remove tartar is by visiting our Cohasset, MA, general dentist for a professional dental cleaning. We have the right tools to remove tartar buildup.
Are there ways to prevent plaque and tartar buildup?
The best way to remove plaque buildup before it even can harden into tartar is to brush and floss regularly. What does this mean, exactly? This means brushing at least twice a day and flossing once a day, and you can't have one without the other. Brushing alone isn't enough to remove plaque and food from between teeth. You also need to floss.
Your diet can also have an impact on the health of your teeth and gums. Eating a low-sugar and low-starch diet can certainly help with not feeding the oral bacteria responsible for decay. Also, fruits and veggies with a high water content such as cucumbers and apples are nature's little teeth cleaners and can stimulate salivary production to wash away plaque and food particles.
How can plaque and tartar impact my health?
Since plaque and tartar buildup can lead to decay and gum disease, it's important to take control of your oral health and to make sure that you are brushing and flossing often and properly. You also don't want to skip out on those six-month dental cleanings with our dental team.
If it's been more than six months since you last visited our Cohasset, MA, family dentist for a dental cleaning, or you simply want to discuss ways to better care for your smile, Dr. Thomas, Dr. Chenette, and the team at Cohasset Dental are here for you. To schedule an appointment, call us today at (781) 383-9393.
By Cohasset Dental
October 14, 2021
Dr. Kevin Thomas and Dr. Aaron Chenette of Cohasset Dental are your cosmetic dentists in Cohasset, MA. We can help you get to your brightest, whitest smile with teeth whitening treatments, but you need to take great care of your mouth if you want your teeth to stay free of stains. Keep reading for tips on protecting your teeth from stains, and come see us if you're unhappy with the shade of your smile.
Daily hygiene routine
To keep your smile at its brightest, you need to take great care of your teeth every day. Your cosmetic dentist in Cohasset, MA, will recommend brushing for two minutes twice a day and flossing at least once a day. Daily brushing and flossing keep plaque from building up on your teeth, preventing tooth decay and gum disease, and keeping your teeth free from stains.
Making good choices
Certain drinks like coffee, tea, soda, and wine can lead to staining on the teeth. Enjoy these beverages occasionally, and with water so your teeth get rinsed at the same time. You can also use a straw, which limits your teeth's exposure to the liquid. Smoking can lead to heavy staining on your teeth, and your dentist will always recommend quitting smoking to prevent oral cancer. Most people can't quit on their own or on their first try, so don't get discouraged! Commit to quitting to give yourself a beautiful smile.
Regular professional cleanings
If you want to keep your teeth bright, it's important to keep up with regular teeth cleaning appointments from your cosmetic dentists in Cohasset, MA, twice a year. At a tooth cleaning appointment, all plaque and tartar are removed from the surfaces of the teeth. This helps prevent tooth decay and gum disease and keeps your teeth free of stains.
Dr. Thomas and Dr. Chenette of Cohasset Dental offer cosmetic dentistry in Cohasset, MA, to help keep your teeth their brightest! Call us for an appointment at (781) 383-9393.
By Cohasset Dental
August 05, 2019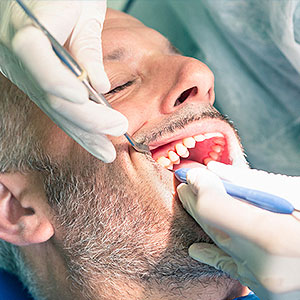 One of the key parts to an effective oral disease prevention plan is practicing daily oral hygiene to remove dental plaque. Both brushing and flossing are necessary for cleaning your teeth of this thin biofilm of bacteria and food particles most responsible for tooth decay and periodontal (gum) disease.
But as important as they are, these two essential hygiene tasks aren't the end-all-be-all for lowering your disease risk. For the best protection, you should also visit your dentist at least twice a year for thorough dental cleanings. That's because plaque you might have missed can turn into something much more difficult to remove: calculus.
Also known as tartar, calculus is hardened deposits of plaque. The term comes from the Latin word meaning "small stone," an apt description of its texture on tooth surfaces. Although not the same as the branch of mathematics that bears the same name, both derive from the same Latin word: Merchants and traders centuries ago used small stones to "calculate" their various transactions.
Over time soft and pliable dental plaque hardens into calculus, in part due to a reaction with saliva. Because of the difficulty of accessing all tooth surfaces, calculus can form even if you have an effective daily hygiene practice.
Once formed, calculus can adhere to teeth so tenaciously, it's impossible to remove it with brushing and flossing. But dentists and hygienists can remove calculus safely with special tools called scalers.
And it should be removed or it will continue to foster bacterial growth. This in turn increases the chances for infections that attack the teeth, gums or underlying bone. Keeping it under control will therefore diminish your risk for developing dental disease.
Although there are other factors like heredity that can affect your disease risk, keeping your mouth clean is the number one thing you can do to protect your teeth and gums. A daily hygiene practice and regular dental visits will help ensure plaque and its calcified form calculus won't be a problem.
If you would like more information on preventive dental care, please contact us or schedule an appointment for a consultation.