My Blog
Posts for: September, 2021
By Cohasset Dental
September 13, 2021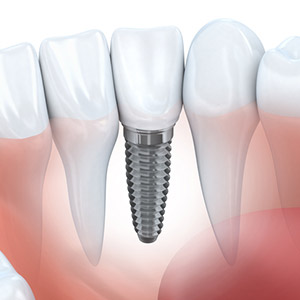 Along with fessing up to cherry tree surgery and tossing silver dollars across the Potomac River, George Washington is also famously known for wearing wooden dentures. Although we can't verify the first two legends, we can confirm Washington did indeed wear dentures, but not of wood—hippopotamus ivory and (yikes!) donated human teeth—but not wood.
Although they seem primitive to us today, Washington's dentures were the best that could be produced at the time. Still, the Father of Our Country suffered mightily from his dentures, both in physical discomfort and social embarrassment. Regarding the latter, our first president's dentures contorted his lips and mouth in an unattractive way, faintly discernable in Gilbert Stuart's famous portraits of our first president.
If only Washington had lived in a later era, he might have been able to avoid all that dental unpleasantness. Besides better versions of dentures, he might also have benefited from an entirely new way of replacing teeth—dental implants. Just four decades after this state-of-the-art restoration was first introduced, we now recognize implants as the "Gold Standard" for tooth replacement.
In recognition of Dental Implant Month in September, here are 4 reasons why dental implants might be the right tooth replacement choice for you.
Life-like. While other restorations provide a reasonable facsimile of natural teeth, implants take like-likeness to another level. That's because the implant replaces the root, which then allows for a life-like crown to be attached to it. By positioning it properly, implants and the subsequent crown can blend seamlessly with other teeth to create an overall natural smile appearance.
Durable. Implants owe their long-term durability (more than 95% still functioning after ten years) to a special affinity between bone and the titanium post imbedded in the jaw. Bone cells readily grow and adhere to the implant's surface, resulting over time in a more secure hold than other restorations. By the way, this increased bone growth around implants can help slow or even stop progressive bone loss.
Low impact. Dental bridges are another well-regarded tooth replacement option, but with a major downside: The natural teeth on either side of the missing teeth gap must be crowned to support the bridge. To prepare them, we must permanently alter these teeth. Implants, though, don't require this form of support, and so have a negligible effect on other teeth.
Versatile. Although implants are a practical choice for individual tooth restorations, multiple teeth replacements can get expensive. Implants, though, can also be incorporated into other restorations: Four to six implants can support an entire removable denture or fixed bridge. Implant-supported restorations are more durable than the traditional versions, while also encouraging better bone health.
If you need to replace teeth and would like to consider dental implants, see us for a complete examination. You may be an ideal candidate for this "best of the best" dental restoration.
If you would like more information about dental implants, please contact us or schedule a consultation. To learn more, read the Dear Doctor magazine article "Dental Implants."
By Cohasset Dental
September 03, 2021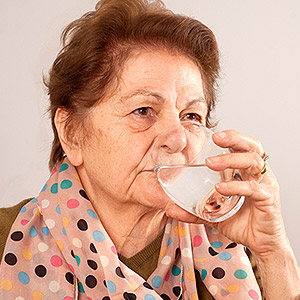 It's normal to have occasional mouth dryness—that "cotton mouth" feeling when you first wake up or after eating a spicy meal. It soon dissipates, though, leaving you no worse for wear other than the memory of an unpleasant sensation.
For some, though, the unpleasant sensation becomes a chronic condition known as xerostomia, in which their mouth feels dry most of the time. And, it can have far-reaching consequences beyond a mere irritation if not treated.
Among the numerous causes for xerostomia, the most common appears to be over-the-counter and prescription medication. An estimated five hundred medications have dry mouth as a potential side-effect, from antihistamines to antidepressants. And because people over 65 are more likely to take medications, they also have a high occurrence of xerostomia.
A person with certain systemic diseases like Parkinson's Disease or undergoing radiation or chemotherapy for cancers of the head and neck may also encounter dry mouth. For example, an autoimmune disease called Sjögren's syndrome, primarily affecting postmenopausal women, can dry out the mouth's mucous membranes.
Chronic dry mouth isn't normal, and often a sign of a health problem that should be examined. And it can lead to more problems with your oral health. Because dry mouth is most likely a reduction in saliva, which helps buffer decay-causing acid and provides antibodies to fight bacteria, having less of this vital fluid can increase your risk for both tooth decay and gum disease.
So, what can you do if you're plagued by persistent dry mouth? If you suspect your medications may be a factor, talk with your doctor about whether one of them may be the underlying cause for your symptoms. You may be able to switch to an alternate medication without dry mouth side-effects.
You can also increase your water intake during the day, including drinking more before and after taking medication. And there are a number of products like the artificial sweetener xylitol found in gums and candies that can boost saliva. Your dentist may also be able to recommend products that increase saliva.
Above all, be sure you keep up daily brushing and flossing, as well as regular dental cleanings. Taking care of chronic dry mouth could help you avoid dental problems later.
If you would like more information on preventing and treating chronic dry mouth, please contact us or schedule an appointment for a consultation. You can also learn more about this topic by reading the Dear Doctor magazine article "Dry Mouth."