My Blog
Posts for: March, 2015
By Cohasset Dental
March 25, 2015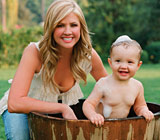 During Nancy O'Dell's interview with Dear Doctor magazine, the former co-anchor of Access Hollywood and new co-anchor of Entertainment Tonight could not resist her journalistic instincts to turn the tables so that she could learn more about a baby's oral health. Here are just some of the facts she learned from the publisher of Dear Doctor about childhood tooth decay, pacifier use and what the right age is for a child's first visit to the dentist.
Many moms-to-be and parents or caregivers of young children are surprised to learn that around age 1 is the ideal time to schedule a child's first visit to the dentist. This visit is crucial because it sets the stage for the child's oral health for the rest of his or her life. It can also be quite beneficial for the parents, too, as they can be reassured that there are no problems with development and that the child's teeth appear to be growing properly. And if by chance we identify any concerns, we will discuss them with you as well as any necessary treatment strategies.
Nancy also wanted to learn more about pacifiers — specifically, if it is a good idea for parents to encourage their use. Obviously, children are born with a natural instinct for sucking, so giving a child a pacifier seems totally harmless. Pacifiers definitely have some advantages; however, if used for too long — past the age of 18 months — they can cause long-term changes in the child's developing mouth (both the teeth and the jaws).
Another problem that parents and caregivers need to be aware of is baby bottle syndrome. This is a condition that develops in children who are perpetually sucking on a baby bottle filled with sugary fluids such as formula, fruit juices, cola or any liquids containing a large amount of sugar, honey or other sweeteners. It is important to note that a mother's own breast milk or cow's milk are good choices for feeding babies, as they both contain lactose, a natural sugar that is less likely to cause decay. However, if these liquids are placed in a bottle and a child is allowed to suck on it throughout the night, they, too, can promote tooth decay. The key is to feed your child properly while avoiding all-night feedings and liquids loaded with sugar.
To read the entire Dear Doctor magazine article on Nancy O'Dell as well as to learn more about a baby's oral health, continue reading "Nancy O'Dell — A life full of smiles." Or you can contact us today to schedule an appointment so that we can conduct a thorough examination, listen to your concerns, answer your questions and discuss any necessary treatment options.
By Cohasset Dental
March 10, 2015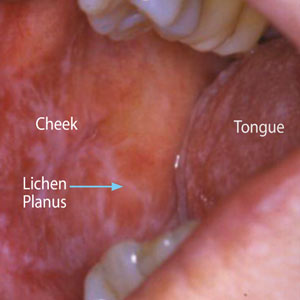 If you've noticed a small sore in your mouth, it's possible you have a non-contagious disease known as lichen planus. Although usually benign, it's still a good idea to have it examined and monitored.
The condition is so named because its lesions are similar in appearance to lichen, the algae and fungi organism often found on rocks and trees. It's believed to be a type of autoimmune disease, in which the body treats some of its own cells as foreign and reacts adversely to them. Certain medications and substances may also cause a lichenoid reaction. Besides the inner cheeks, gums or tongue, lichen planus may also appear on other skin or mucous surfaces on the wrists, legs or fingernails.
When it appears inside the mouth it usually resembles a lacy pattern of white lines or ulceration. Gum tissues may become red and inflamed, with some soreness after brushing or eating. Although there's no known cure for lichen planus, it rarely causes serious problems — in fact, you may not even be aware you have the condition unless pointed out during a dental exam. It may, in time, fade away.
If the lesions do become bothersome (painful, itchy or overly-sensitive), there are some ways to ease discomfort: brushing with a soft toothbrush (to minimize irritation), flossing, and avoiding acidic or spicy foods and beverages which have been known to cause flare-ups. Managing stress is also helpful, and a topical steroid may be prescribed for more severe outbreaks.
Perhaps the greatest concern with lichen planus, though, is it may resemble more serious conditions, particularly oral cancer. The only way to be certain that it is a benign condition is to perform a biopsy on some of the affected tissue. If you notice a problem, be sure to visit us for a complete examination. And regardless of whether you have the condition or not, regular oral cancer screenings, as well as limits on alcohol consumption and stopping use of tobacco, will also reduce your risk of oral cancer.
Odds are if you have a case of lichen planus it isn't causing you any problems. If it does cause you discomfort, though, you can take steps to ease your symptoms.
If you would like more information on lichen planus and similar oral conditions, please contact us or schedule an appointment for a consultation.